General
'WAOW' meaning "Water Adventure Ocean Wide" stems from our love of the ocean and diving and our willingness to commit to projects providing the necessary infrastructure for passionate people to dive and explore the beauty of the Indonesian Archipelago.
Below you will find a short profile on the principle people involved in our current projects for both the 60m liveaboard and the 14m dive catamaran.
Meet the Staff
Michel Deville
It is he who has dreamt of this ship, so hard, that he just couldn't sleep any more.
Setting this project into motion he thought he would be able to sleep again, oh no! Maybe he will sleep again once the project is finished.. In the meantime, even with no sleep, he gets worried, exasperated, excited, and emotional, wound up, but generally loves every minute of it. I guess we could summarize all this by saying. "He's fully living his adventure".
Founder of the laboratory BIOLOGO S.A in Switzerland, he has had the opportunity to express his tenacity by combating the Swiss Authorities (Swissmedic) for the recognition of alternative medicines.
He was not content with just this however, with an entrepreneurial spirit, it was in 1991 when, with Christophe Paul, he was one of the two founders of ABYSS World, a company reputed for the conception and organisation of dive voyages all around the globe. Michel is also very creative, definitely an eccentric artist.
So motivated in his search for different ideas and forms his entourage often needs to calm him and channel his creative energies. With this distinctive side, the final decorations of the boat will be his private mission and personal statement.
---
Julia Deville
Wife of Michel, hobby diver and photographer, she has resigned from her job as an industry Key account manager, technical support and project manager which she held for over 18 years, to join the challenging project MSY WAOW.
She coordinates and manages the numerous projects undertaken by her and Michel, among which the commercialisation of MSY WAOW and our web site www.waowcharters.com.
---
Gerard Schoch
A long term friend of Michel, Gerard is also a very successful entrepreneur.
He began by directing a large European publishing house. A communicator of the highest level, he created an advertising and public relations company, SPEOS CONSEIL.
He is best known in Geneva as the founder of one of the first private radio stations in Switzerland, Radio Lac. A station which was recently sold by Gerard to take his well earned retirement.
Remaining very active due to his enthusiasm and love of action, he is definitely nonstop. He remains very active as a consultant in communication and as mentioned is very passionate about the project of "WAOW". He has taken on this project at full speed and has put his arm into the grease just to the elbow.
His management and communication experience will automatically position him as the team leader and person responsible for the communication and public relations.
---
Andrew Laughlin
Our Australian project manager and director of PT Waow Charters in Bali.
The globetrotter of the oceans and of life. One of the youngest dive instructors at 20 in 1988, he spent his first professional years working dive shops, charter yachts and island resorts from Australia to Asia, to the US and the Caribbean.
Becoming a skipper in 1994 he then went on to captain dive vessels around the world. During several years in Geneva, doing something different than wearing a wetsuit, he created an English School for banking employees which was very successful and was then sold once the novelty soon wore off.
Wanting to return to Australia after 12 years of globetrotting he founded Blue Ocean Marine, company specialized in the project management of yacht builds, refits, deliveries and vessel importation. Once hearing of Michel's project he put his hand up immediately to be involved and was the project manager concentrating on the technical and commercial development of Waow from 2008 to 2012.
Andrew is a PADI Master Instructor, MCA Master of Yachts and holds a Diploma in Marine Studies.
He now shares his time between the Bali office and working as one of our onboard Cruise Directors.
---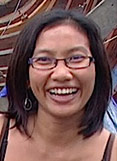 Wulan Sane
Wulan is our Indonesian fairy godmother who has always been able to open doors we never thought we could get into.
She has been involved in the WAOW project from the beginning, including the entire building and development project.
Originating from Padang Bay in Bali, she comes from a traditional Hindu family and always reminds us on what day we should be blessing the boat, the crew, or simply embracing life. Wulan works out of our Bali office and handles administration, accounting and logistics.
She is Andrews' right arm and has been from the beginning. Wulan now shares her time between the Bali office and working as one of our onboard Assistant Cruise Directors.
---
Stéphane Griveau
As an expert in dive travel for over 20 years, Stéphane has practiced his art working with Tour Operators in both France and Switzerland, always on a search for the most beautiful spots and the best products.
More than just a career, travel and diving are for him a true passion and he is able to advise you on the minutest detail for over 80 destinations world-wide.
Stephane has dived many of the worlds' oceans and premier spots including the Mediterranean, Pacific, Red Sea, Sudan, Saudi Arabia, Seychelles, Reunion Islands, Maldives, Thailand, Philippines, Indonesia, Malaysia, Micronesia, New Caledonia, Polynesia, Fiji, Galapagos and a good part of the Caribbean.
Our Frenchy joined the team at Waow in August 2013 to look after sales and marketing and he will provide all his vast experience in helping organize your cruise onboard WAOW.
---
Reto Schläpfer
Born in Switzerland, Reto has been living in Indonesia since 2005. With far more than one string to his bow, Reto joined the team at WAOW in August 2014 and is one of the Cruise Directors onboard. He speaks French, German, English and Indonesian.
While studying Sociology and Anthropology at the Bale University he discovered scuba diving and his passion moved quickly towards this domain. He became an Instructor and also obtained his Diploma in Marine Biology at the University of Portsmouth in England.
Once in Bali he became a manager at one of the large dive centers on the Island. In 2009, he became involved in another huge project, to entirely renovate a historic Dutch Schooner and create a class charter vessel, The Adelaar. Reto succeeded in this challenge with enormous effort and became a reference in the world of diving and yachting.
An accomplished navigator, manager and instructor, Reto is a well known professional whose passion remains intact. He brings to WAOW a great deal of experience of both the waters and culture of Indonesia.
When Reto is not onboard he lives in Sanur Bali with his Indonesian wife and two children. His interests include surfing, photography and water sports.
---
Rudy Priatna
Originally from West Java, Rudy (a.k.a Rudster) studied Interior design before realising that wasn't exactly what he wanted to do.
He worked in hospitality for several years from 2004 after moving to Bali and managed restaurants and bars. In 2009 Rudy started working for a yacht consulting company based out of Jakarta. As a real "jack of all trades" he covered aspects from design thru to the more technical aspects. The company Rudy was working for was assisting in our rigging project and in 2011, he decided to join WAOW full time. Rudy works as the assistant cruise director onboard and rotates with Wulan in our Bali office.
---
Enjoy a 360° visit onboard
The dream
Each of the participants in this project is a diver and/or mariner and/or completely mad about boats. But not just any type of boat. For these folks the boat must have charm, style, class, and most importantly, make dreams come true.
WAOW is a three masted sailing vessel, constructed entirely from wood using traditional methods, evoking the southern seas, liberty, adventure, comfort, quality and style.  All to be shared by those going to sea on her. With 10 cabins for the guests, crew accommodation, dive equipment, multi media equipment and dream destinations, we wish to achieve dreams for all those aboard.
WAOW is principally set up as a dive charter vessel. However, she is also available for charters such as:
Theme voyages such as photography or marine biology, accompanied by experts in these fields
Company seminars and team building
Custom made voyages for families and groups
Honeymoon cruises
Other charter reasons corresponding to the capacities of the vessel
Charter operations began in April 2012 in Indonesia, an archipelago made up of over 17'000 islands.
Restaurant & Bar
The cuisine will permit guests to sample local specialities on board, sometimes spicy, yet able to be adapted to the occidental pallet. European meals will be available in addition to the local dishes. The chef is Indonesian and no effort will be spared in assuring your pallet is completely satisfied.
It will be of course possible to cater to the vegetarian and those with special dietary requirements on simple request.
Non alcoholic drinks and Fruit-Shakes are included in the price of the charter. Beer, cocktails, spirits, wines and Champagne will be available on a bar tab basis.
Lounge & Sun Deck

7 DELUXE cabins
6 DELUXE cabins are located below the main deck, each of 24m2 and with 2 portholes each. A size well above than proposed on most charter vessels, especially sailing vessels. In 4 of them, the King-size double bed can be converted into 2 separated single beds (Twin-share).
All 6 cabins provide :
Fully equipped bathroom (incl. towels, bathrobes and hair-dryer)
Separate shower (with shower gel and shampoo) and separate WC
Sofa and 3rd bed (90 x 200 – can be used for a 3rd person)
Air Conditioning, fridge
Desk, outlets, large storage space, LED lightning
Wi-Fi, Flat Screen with individual entertainment system
1 DELUXE 'UD' cabin is located on the Upper Deck, of approximately 16m2 and with big windows, providing :
Fully equipped bathroom (incl. towels, bathrobes and hair-dryer) with shower and WC
large storage space & a sofa
Air Conditioning, fridge
Desk, outlets, LED lightning, Wi-Fi, Flat Screen with individual entertainment system
2 SUPERIOR Cabins
2 SUPERIOR Cabins , located at the rear of the main deck, of 21m2 each, equipped with a King-size double bed (not convertible), large windows and a semi private shaded lounging area. Both cabins provide :
Fully equipped bathroom (incl. towels, bathrobes and hair-dryer)
Separate shower (with shower gel and shampoo) and separate WC
Sofa / 3rd bed (90 x 190cm – bed for a 3rd person)
Air Conditioning, fridge
Desk, outlets, large storage space, LED lightning
Wi-Fi, Flat Screen with individual entertainment system
1 MASTER Suite
The MASTER suite of 45m2 with it's spacious Lounge & Sundeck (35m2) furnished for private use, is located at the rear of the upper deck. A totally luxurious cabin providing you the feeling of being "The Master and Commander".
The MASTER suit provides :
Fully equipped bathroom (incl. towels, bathrobes and hair-dryer)
Separate shower (with shower gel and shampoo) and separate WC
2 Sofas / 3rd beds (90 x 190cm and 90 x 200cm – can be used for a 3rd & 4th person)
Air Conditioning, fridge
Desk, outlets, large storage space, LED lightning
Wi-Fi, 2 Flat Screens with individual entertainment system
Facilities on board
Your comfort on board WAOW is of great importance to us !
Find a list of facilities available aboard MSY WAOW to enhance your charter experience.
Restaurant and Bar area. Seating for 24 people
Lounge area with TV projection and music facilities
Dedicated camera room with charging stations 220V/110V plus computer system
40m2 dedicated dive area shaded in the bow of the vessel
Sun deck on the foredeck of 40m2
Shaded main deck area of 120m2 with tables, deck furniture and showers
Upper sun deck with long chairs in front of the wheelhouse of 50m2, partially shaded
Shaded rear deck area of 25m2
Air conditioning throughout the vessel including cabins and restaurant/lounge areas
Wi-Fi Internet access with download data allowance in each cabin
Massage service
Full catering service including 3 main meals per day plus snacks after dives
Full service bar including non alcoholic beverages, wine, beer and spirits
Full service dive operation including courses and equipment rental
Canoes & SUP's (Stand Up Paddleboards)
Land excursions
In room entertainment systems including monitor and onboard movie system
Scuba diving
Our philosophy
Be able to explore destinations as mythic as they are far remote
Have range capacity for extended expeditions for the entire Indonesian Archipelago
Provide experienced, passionate and personable cruise directors and dive guides
Provide a feeling of total exclusivity for the customers on board
MSY WAOW has been designed with the diver in mind to provide the ultimate experience. Scuba Diving is the principle past time offered on board. She is therefore equipped to an extremely high level drawing on the teams more than 30 years experience in the industry.
From the equipment used to the itineraries proposed, our philosophy is based on the following criterias and goals:​
Modern and well maintained facilities for hassle free diving
Operate multiple dive speed boats from the main ship to ensure small dive groups
Supply state of the art, yet non intrusive, safety systems required for remote diving operations.
Find out more about the richness and diversity of diving in Indonesia  ☞  DIVING in INDONESIA
Dive Facilities
Facilities and other Watersports
From the standard of the equipment to the 40m2 shaded dive area at the bow, WAOW will provide the following facilities:
2 Compressors
12 litre scuba tanks (200bar, single INT or DIN valves). A limited number of 15 litres tanks are available on request (with supplement – see our page "Rental Equipment")
several full sets of hire dive and snorkel equipment
NITROX fills (with supplement – see our page "Rental Equipment")
Oxygen therapy and full safety equipment
for your security we provide free of charge a Nautilus Lifeline (VHF GPS) to each diver
3 dive tenders are available, each with the capability of taking between 6-8 passengers. For all excursions from the main ship such as diving, snorkeling and land visits
2 kayak's & 2 SUP's (Stand Up Paddle boards)
In addition to the facilities for divers, it will also be possible for beginners to have an introduction to diving or to complete their diving certificate after their pool and theory training in areas which permit such activities.
The crew will take care of transport, cleaning and stocking of equipment and, if the guest requires, the rinsing and stocking of camera equipment.
Dive groups will be separated in the tenders by experience levels and types of dives requested.
On the return to WAOW deck showers and cleaning tanks will be available for rinsing off with fresh water.
It is recommended to have a wetsuit of between 3 and 7mm, the water temperature being between 20 and 29°C . For diving around the Komodo region the water temperature can drop even further. Hence, 7mm Neoprene would be recommended or 5mm with hood as a minimum in Komodo and Alor reagion. 3 to 5 mm for the northern reagions such as for example Raja Ampat.
Dive Tenders
Quick and comfortable transfers to the dive sites
3 tenders are available or excursions away from the main vessel (land excursions, diving).
2 are built from fibreglass for up to 8 divers for one and 10 divers for the other, are approximately 7, resp. 8 meters long with tank racks, out board motors and radio communications with the main ship.
The 3rd tender is a semi inflatable fast RIB, for up to 6 divers, approximately 6 meters long, can handle bigger seas and also be used for land transfers to and from the main ship.
This will provide the ability to separate small dive groups, quickly and comfortably dive areas several miles away from the ships anchorage.
Dive Guides
Professional dive staff
Our dive guides on board have been chosen based on criteria required to run a high end dive liveaboard. These include experience, passion, language skills, personality, qualifications and local knowledge. There will generally be 4 to 6 dive staff available to ensure a maximum of 4 to 5 divers per guide. Our dive guides experience and knowledge will allow them to inform our guests on the fauna and marine life, and to ensure that divers encounter the areas of interest, both above and below the water, presented in the briefings.
The diving operations are run and organised by the "Cruise Director" on board. PT Waow Charters has 2 of these cruise directors working full time for the company. A minimum of one will be on board to ensure that everything runs smoothly and that our clients experience the best possible voyage.
Dive Briefings
Take full advantage of your dives
Our dive briefing needs to be comprehensive and informative. Before each dive an underwater map will be presented for the dive site (excepting exploratory dives) on the TV monitors or a white board.
The site will be explained to you by one of the guides and photos will be shown to you relating to areas of special interest. The strength of experience and professionalism of our operation can be clearly seen in the maps, site listings and positions that have taken years of exploration to accumulate and correlate.